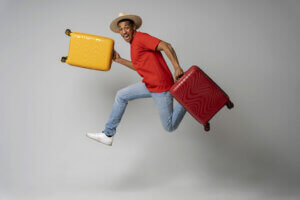 The holidays and parties at the end and beginning of the year have finally arrived! As the meme says, but at what cost? Maybe many of us are really exhausted; recovering the economy and adapting to a post-pandemic environment undoubtedly required a lot of willpower, hard work and emotional stability.
Like the Phoenix Bird, many companies and professionals are rising from the ashes!
We are facing a scenario that is no longer VUCA (abbreviation for volatile, uncertain, complex and ambiguous) but now, according to some analysts, is Brittle (Fragile), Anxious (Anxious), Non-linear (Nonlinear) and Incomprehensible (Incomprehensible). And we cannot face him without managing to recover energy and spirit.
In fact, it has been shown that continuous and excessive work without rest is no longer productive and efficient. That is where a well-deserved vacation becomes not only a space for fun, rest and recreation, but also a tool to return to the office with more creativity, new ideas and a desire to take on the world.
If you are already thinking about those days of enjoyment and dream of leaving the country and discovering a new exotic place, at Coopealianza you We offer personal credits to cover your travel expenses.
What are the conditions of travel loans?
En Coopealianza We offer you credits with competitive and stable rates, long terms to pay, fast and personalized procedures, few requirements and terms according to your needs.
For example, we have personal loans with a rate of 17% and with a term of up to 180 months, applying restrictions, which work perfectly for trips outside the country.
The credits are available for salaried people and public sector pensioners for up to ₡25 million; and for private wage earners for a maximum of ₡22 million.
To opt for a personal loan, you only have to present your identity card and proof of salary or income (proof of salary and pay stubs) and do the SICERE study.
For their part, the pensioner must only present their current identification document, proof or certification of pension.
If you require this service, you can contact us through the social networks of Coopealianza or call 2785-3000, where one of our advisors will guide you through the process. We look forward to your call!