Coopealianza and the Banco Hipotecario de la Vivienda, (BANHVI), gave their own home to 48 families through the project called Lomas del Valle, located in Barrio Cristo Rey de Pérez Zeledón.
The delivery of the houses took place on Saturday, January 29, through an act where the beneficiary families shared, with the assistance of officials from BANHVI, the development company Urban Development and representatives of Coopealianza as the authorized entity of the project.
Of these 48 families, 36 are female heads of household, 4 are older adults and 13 are made up of more than 5 members, who were given a house with three bedrooms, one more than the rest of the houses, with the aim that have more comfort.
All the houses are prefabricated with columns and concrete tiles with measures from 42 m2 up to 49 m2 depending on the number of people per family. In addition, all the houses have a living room-dining room-kitchen, bathroom, polished concrete floor, paint on external walls, aluminum windows with fixed glass and latticework.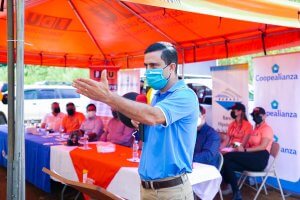 Francisco Montoya, General Manager of Coopealianza, indicated that, despite living through times of pandemic, these types of projects continue to be carried out, which reinforce the Cooperative's social commitment to improve the quality of life of Costa Rican families, showing that it is a leading entity in the cooperative sector in the placement of housing bonds.
"The contribution that Coopealianza has provided to the country for 50 years is an important issue, it is not a speech, they are really facts. In more than half a century, Coopealianza has managed to impact many people and communities in the country, trying to contribute to a better distribution of wealth," added Francisco Montoya.
The project investment was ¢970 million. In 2021 Coopealianza executed 2,900 housing bonds and since 2004, as an entity authorized by Banhvi, the cooperative has processed 16,480 housing solutions, evidencing its social contribution to needy families in the country and to community development.
Dagoberto Hidalgo Cortés, General Manager of BANHVI, commented that the Lomas del Valle project provides a concrete response to the beneficiaries, especially due to the current pandemic situation, where families leave situations of overcrowding and unhealthiness to inhabit new houses and allows them to reduce the chances of contagion of COVID-19. "This project is generated through the public-private alliance, made up of BANHVI, Coopealianza and the construction company, which not only provides a decent roof to families in need, but also collaborates in the country's economy."
In this sense, he emphasized the importance of Hills of the Valley "in the generation of employment, since its construction impacted more than 160 jobs, between direct and indirect, and more than 2.000 new square meters of construction, in Pérez Zeledón, while, through productive chains, the economy is reactivated in aspects such as the sale of construction materials, real estate and financial activity, consultancy and transportation, among others.